Already read Part 1 and Part 2? Skip ahead to Part 3: The sales meeting
In Part 1 of the series we created a walkthrough slideshow from the Slideshows section of the AMP CMS. Our reps now have a product catalog for just the product at market in the order of the walkthrough – they already love us. We're only getting started, though, on our path to stardom. This is Part 2.
Now that we have a walkthrough slideshow on AMP, let's bring it into the real world using AMP's AMP Press printing features. To help the reps and make our showroom look more legit, we can print QR code labels to tag the pieces we have at market.
How to print QR code labels from your walkthrough slideshow in the AMP CMS:
From your slideshow click "New Printing Methods"

Change the print template from 'Group Pricelist [Letter]' to 'Group Pricelist [8162]'

Adjust settings to change the fields being displayed and formatting (click 'Quick Preview' to see your adjustments)

When you have it the way you want it, click 'Download (PDF)' and print the PDF on Avery 8162 sticker sheets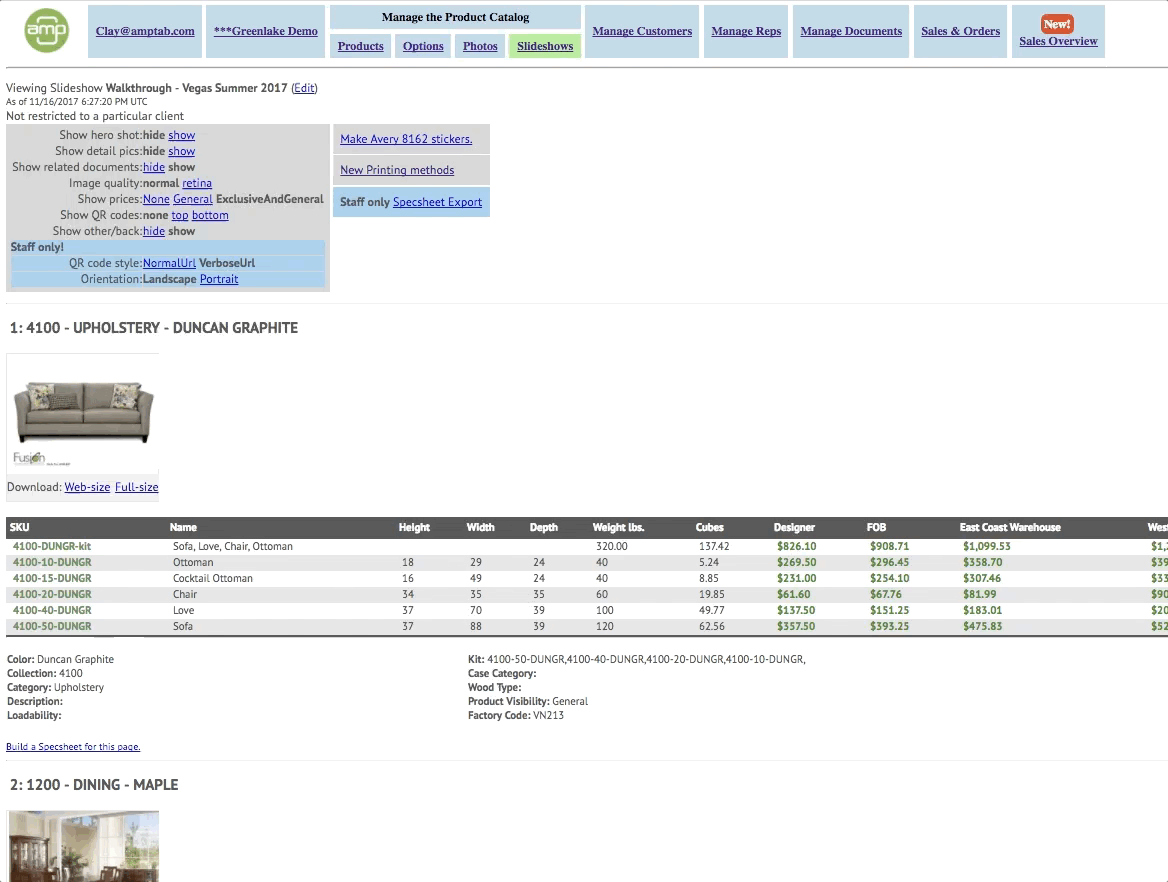 PRO TIP Include borders and print one page on normal print paper first. Now hold your printed material up to the Avery 8162 sheet in the light to see if the borders line up. Get this right first so you don't waste any of your Avery 8162 sheets.
Reps can scan them with their iPads to hop right to the product in AMP. They don't look silly in front of customers hunting for the right product. We're looking good because they're looking good.
You may have curated your own Excel price sheet in the past. With photos and product info and all that. Those days are in the rearview now – we can easily print the same thing out of AMP.
How to print price sheets in the AMP CMS:
Follow the same steps as you did for printing QR code labels
This time select 'Group Pricelist [Letter]' for your print template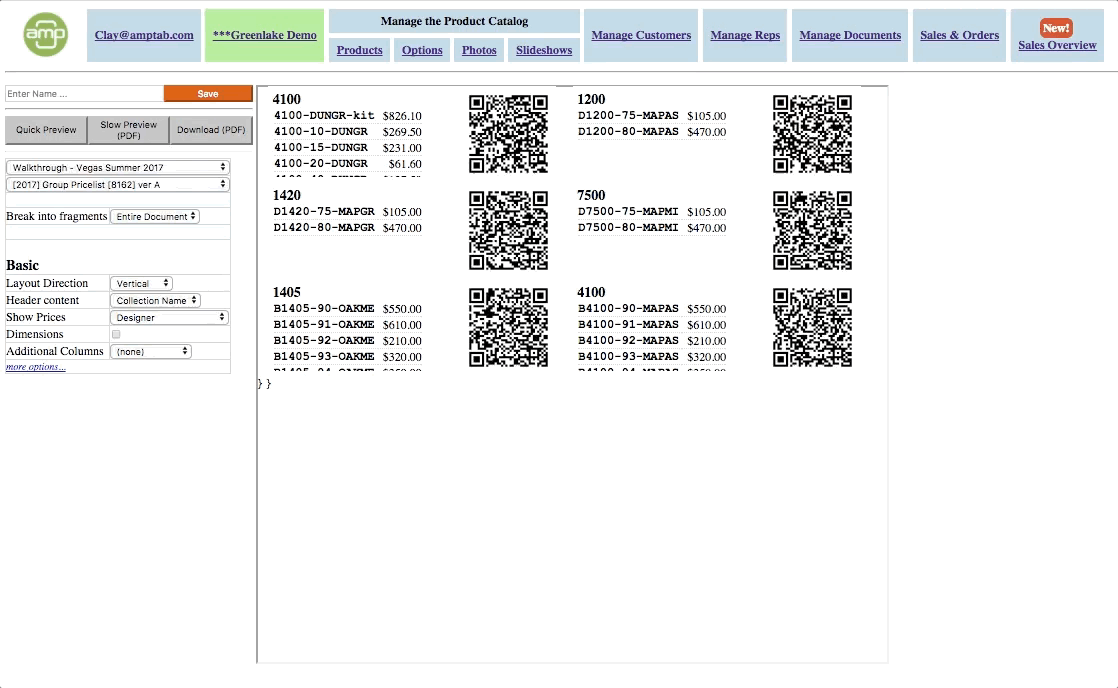 PRO TIP Once you've made all your selections and are ready to print, save it using the red Save button. Next market you can reopen your saved templates, change the slideshow to your new walkthrough, and save yourself a bunch of a time.
Print however many you normally print. One for each rep, maybe a few extras for interested buyers. The main thing is we now have a pile of useful, pretty price sheets with correct info that mirrors AMP, and we were responsible for it. We're adding some serious value to the company's market effort!
Now we have AMP ready-to-go with a walkthrough slideshow for reps plus we've brought AMP into the real world with printed price sheets and QR code labels for our products. Everything a rep could possibly complain about is covered. Pricing errors and last minute fire drills are definitely not part of our market this year. Let's not leave anything to chance, though. In the final part of the series we'll make sure all our hard work doesn't go to waste. Check out Part 3: The sales meeting